Regular price
Sale price
$24.00 USD
Unit price
per
Sale
Sold out
Tallow-based zinc oxide mineral sun cream with organic and regenerative ingredients sourced from Hawaiian and American farmers. Reef safe, active, and water resistant. 2 FL OZ.
Share
View full details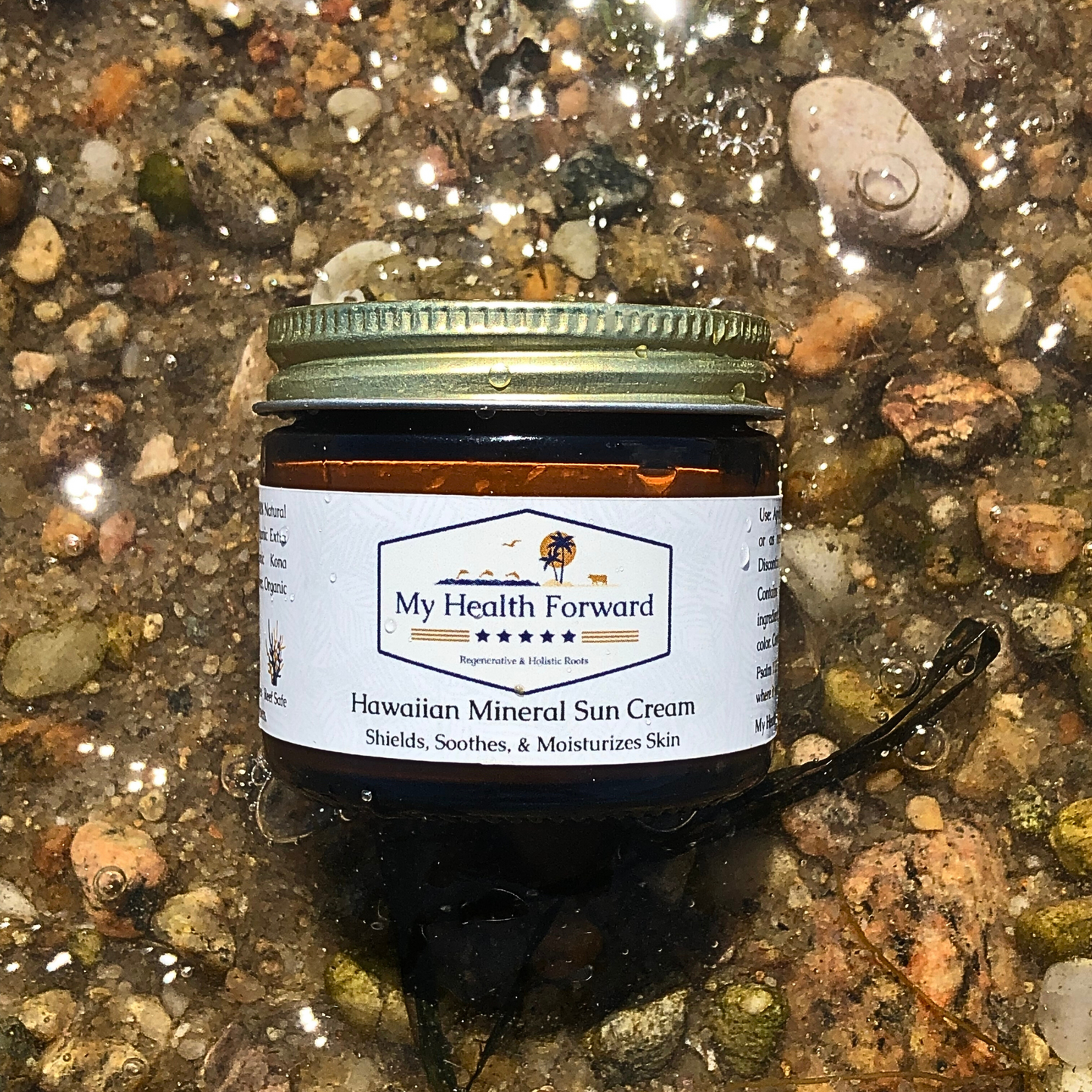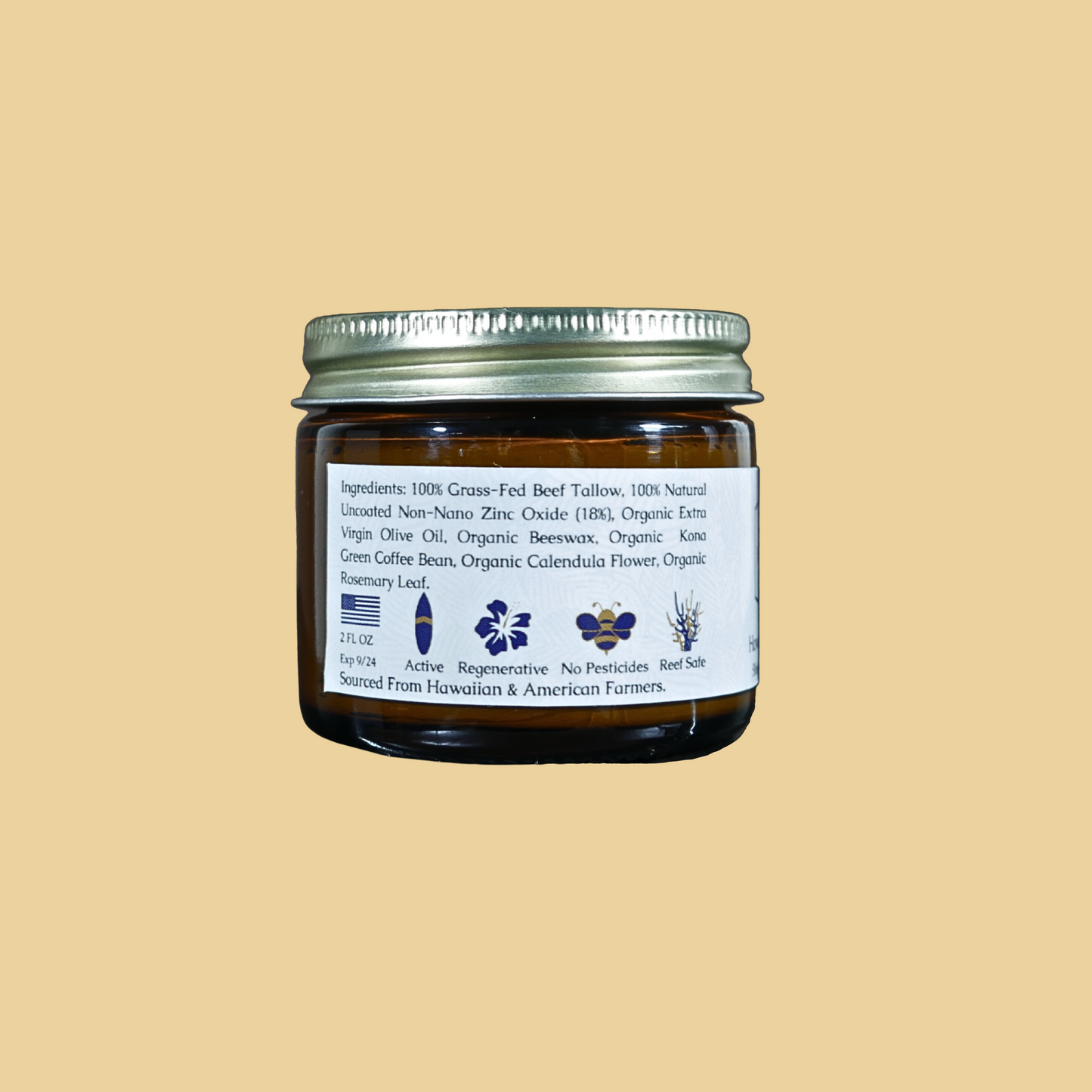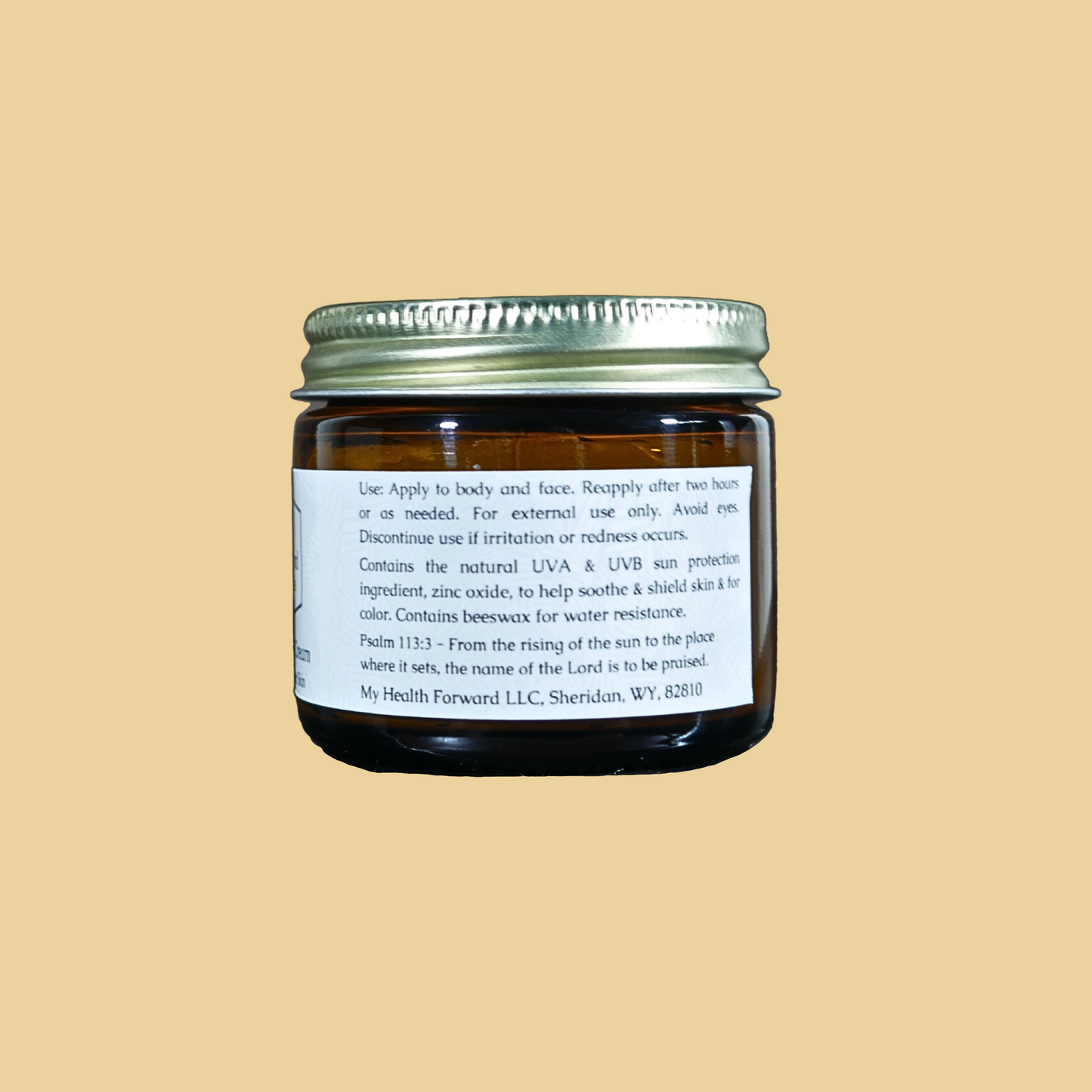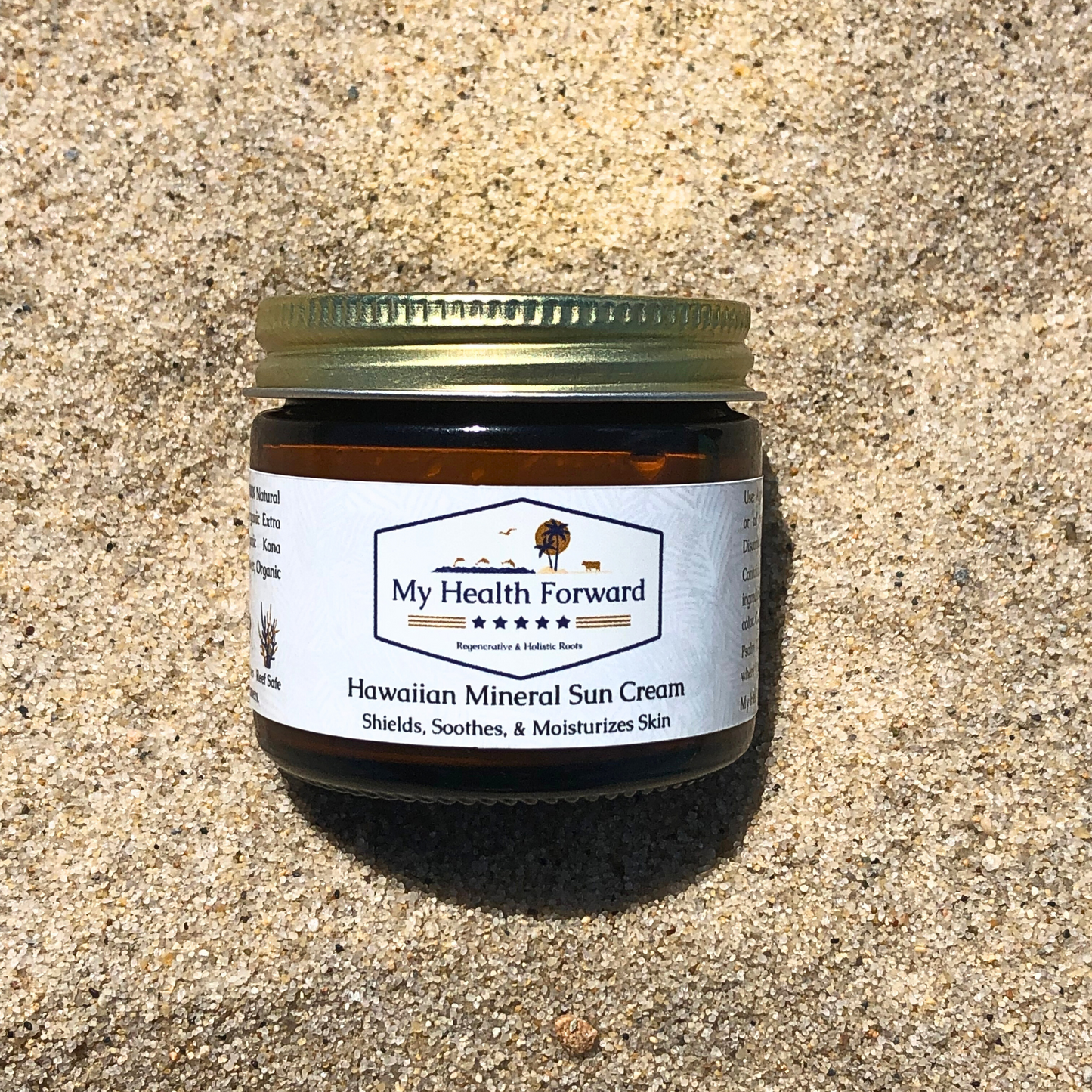 Shields

Contains zinc oxide which naturally shields against UVA & UVB sun rays.†

Soothes

Reduces appearance of inflammation, damage, and wrinkles.

Moisturizes

Rejuvenates and hydrates the skin with vitamins, antioxidants, and fatty acids.

Non-comedogenic

Provides protective layer over skin without clogging pores or causing acne.

Reef Safe

Created in harmony with marine life, so you can safely wear it in the water.

Water Resistant

Contains beeswax for natural water resistance.
Seven Natural Ingredients.
100% Grass-Fed Beef Tallow

Contains vitamins A, D, E, & K and antioxidants to strengthen the skin barrier
Shields skin from free radical damage.
Supports collagen production†
Product of Michigan

100% Natural Non-Nano Zinc Oxide

USP grade and sifted to avoid clumping
18% of product weight (25 SPF)
Natural UVA & UVB sun protectant
Soothes skin and prevents dryness†
Product of Utah

Organic Unrefined Extra Virgin Olive Oil

Contains vitamin E, antioxidants, squalene and oleocanthal to prevent appearance of aging and repair skin damage
Moisturizes skin and reduces oxidative stress†
Product of California

Organic Kona Coffee Beans

Help boost skin circulation, elasticity, and firmness
Protects from oxidative stress
Soothes inflammation and appearance of aging†
Product of Hawai'i

Organic Beeswax

Protects against environmental toxins
Hydrates and keeps skin clean
Reduces inflammation, irritation, and oxidative stress
Naturally water resistant†
Product of Florida

Organic Calendula Flower

Protects from toxins and breakouts
Contains antifungal, anti-inflammatory, and antibacterial properties
Fatty acids help hydrate skin
Natural SPF of 14†
Product of Hawai'i

Organic Rosemary Leaf

Helps tighten and tone skin
Provides antibacterial properties
Help improve circulation and lighten dark spots
Hydrates the skin†
Product of Hawai'i
Use Guide
What are the ingredients?

100% Grass-Fed Beef Tallow, 100% Natural Uncoated Non-Nano Zinc Oxide (18%), Organic Unrefined Extra Virgin Olive Oil, Organic Beeswax, Organic Kona Coffee Bean, Organic Calendula Flower, Organic Rosemary Leaf.
What is the SPF?

The cream contains 18% zinc oxide, a natural UVA & UVB sun protectant. Products on the market with this concentration of zinc have an SPF of 25.
What is the texture?

The cream is thick, smooth, and easily spreadable. When applied, it does not leave a white trail.
How do I apply it?

Apply the cream onto your body and face. The cream goes a long way.
How often do I reapply it?

Reapply after two hours or extended swimming.
What is the size?

The cream fills a 2 fluid ounce glass jar. The contents weigh around 60 grams.
Is it water resistant?

The cream is naturally water resistant thanks to the beeswax.
Is it reef safe?

The sun cream is reef safe and will not threaten any marine life.
Where is it sourced from?

All of the ingredients are sourced directly from Hawaiian and American farmers. Look through the ingredients above to see the origin of each one.
Backed by Nature, Not Labs.
Holistic Cultivation

My Health Forward's ingredients are not irradiated, standardized, or ultraprocessed. These unnatural actions alter the ingredients and remove beneficial compounds. We bring the foods directly from Earth to you.

Regenerative Practices

My Health Forward sources from growers who use regenerative agricultural practices to ensure maximum potency, purity, and active compound profiles. This improves soil health and ecosystem biodiversity.

American Small Batch

My Health Forward cuts out middlemen & sources directly from growers. Our supplements are made in small batches to ensure you receive potency & purity. We produce in America with American materials.
† All views expressed are opinions and not medical advice. My Health Forward does not make claims about SPF for this product, as it has not been tested. We do not call this sunscreen and do not claim it to be sunscreen. These statements have not been evaluated by the Food and Drug Administration. This product is not intended to diagnose, treat, cure, or prevent any disease.