Earth's Formula for Focus.
Regular price
Sale price
$30.00 USD
Unit price
per
Sale
Sold out
Organic herbal adaptogens and 100% grass-fed beef liver to promote energy, focus, and vitality. Purity and potency brought directly from the Earth to you. A regenerative supplement and nootropic.
Share
View full details
Focus

Promotes focus to fight fatigue, overcome distractions, & think clear.†

Energy

Sustains physical & mental exertion for you to power through stress.†

Vitality

Supports an active lifestyle, so you stay strong & lively. †
Organic Rhodiola Root

Supports focus & brain cognition
Helps with stress, anxiety, & fatigue
Supports mood boost & clarity
Promotes strong exercise experience & recovery†
Product of USA

Organic Eleuthero Root

Helps enhance alertness & focus
Promotes energy boost & reduced inflammation
Helps relieve symptoms of anxiety
Supports immune, libido, & heart health†
Product of USA

Organic Maca Root

Tri-color (yellow, red, & black) & gelatinized.
Assists energy levels & exercise
Promotes clarity, memory, focus, & mood
Supports libido, balanced hormones, & metabolic function†
Product of Peru

100% Grass-Fed Beef Liver

Dessicated & undefatted
Aids energy, focus, clarity, & mood
Supports liver function & skin
Source of B Vitamins, Copper, Selenium, Choline, & Vitamin A†
Product of USA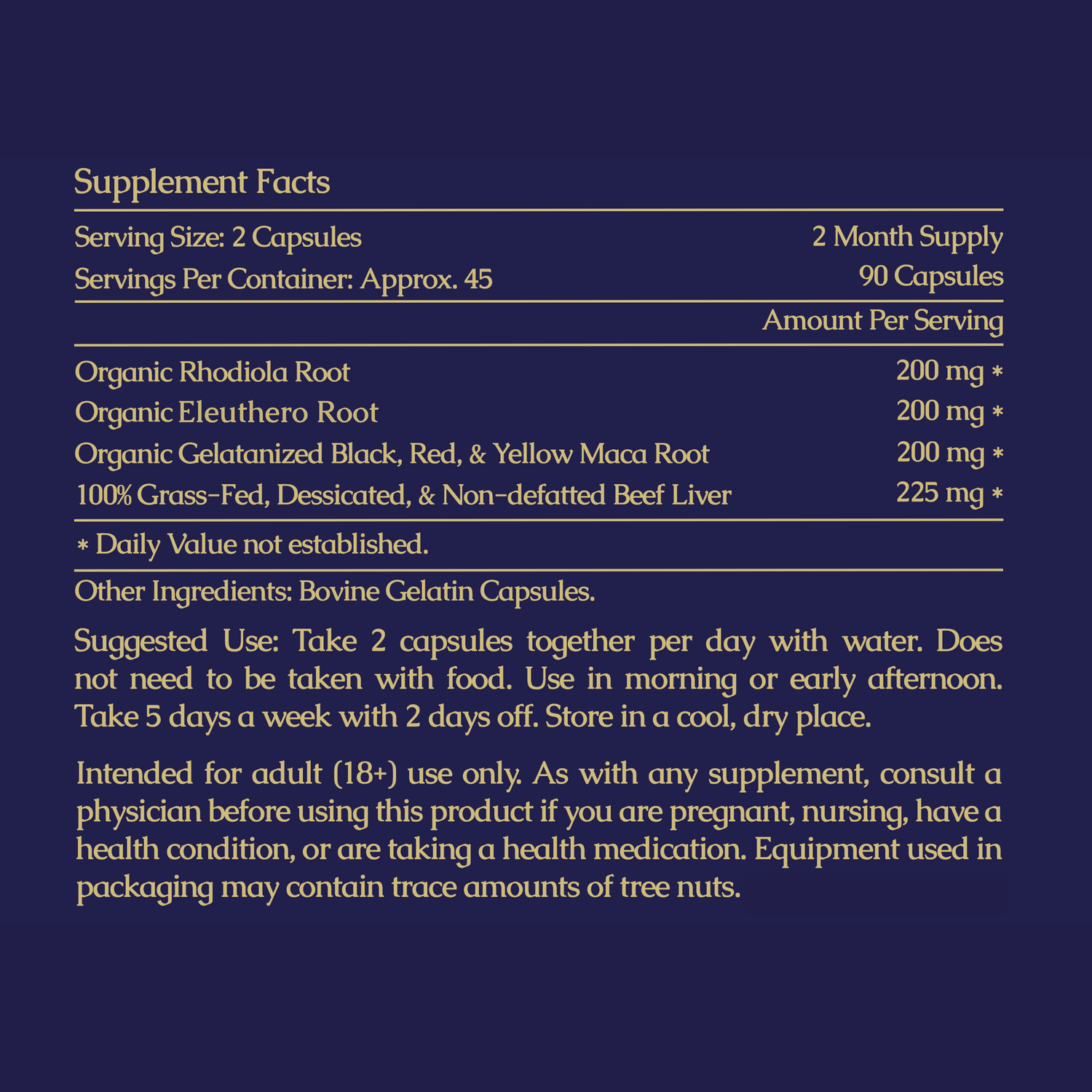 Supplement Facts
Usage: 90 Capsules. Take 2 a day.
Storage: Keep in a cool, dry place. Do not eat desiccant packet.
Cycling: Take for 45 days straight & then off for 1-2 weeks or for 5 days & 2 days off.
Notice: Equipment used in packaging may contain trace amounts of tree nuts.
Habits to Increase Focus, Vitality, & Energy.
Lifestyle

Seek direct sunlight after waking
Don't use phone after waking
Exercise daily including strength training and cardio
Practice 10 minutes of deep breathing exercises such as Wim Hoff
Incorporate cold water exposure and sauna or steam rooms
Take walks after meals and during breaks
Mouth tape when you sleep

Work

Put phone out of sight and touch & turn off notifications
Sit in naturally lit spaces with view of nature
Stare at dot for 60 seconds before starting work
Elevate 14-20 inch screen to be level with your face & place it 20-25 inches away
Set your screen brightness to match the light in the room
Listen to binaural/ambient music

Eating

Start day with protein rich meal
Eat whole foods and cut out ultra-processed foods and drinks
Increase intake of omega 3 fatty acids DHA and EPA from fish
Increase intake of foods rich in B-Vitamins
Hydrate with water and fruit
Eat fruits and vegetables with meals
Increase intake of magnesium and potassium rich foods
Backed by Nature, Not Labs.
Holistic Cultivation

My Health Forward's ingredients are not irradiated, standardized, or ultraprocessed. These unnatural actions alter the ingredients and remove beneficial compounds. We bring the foods directly from Earth to you.

Regenerative Practices

My Health Forward sources from growers who use regenerative agricultural practices to ensure maximum potency, purity, and active compound profiles. This improves soil health and ecosystem biodiversity.

American Small Batch

My Health Forward cuts out middlemen & sources directly from growers. Our supplements are made in small batches to ensure you receive potency & purity. We produce in America with American materials.
† All views expressed are opinions and not medical advice. These statements have not been evaluated by the Food and Drug Administration. This product is not intended to diagnose, treat, cure, or prevent any disease.